INTERNATIONAL STATS I NEWS | BIO | PROBALLERS Posted by Marcelo Villa on Aug 30, 2020 20:21
Originally posted on FanGsBites.com Official Website | News | Last updated on 31/08/2020
A Copy of an Article Written by Fangsbites.com Official News

| | |
| --- | --- |
| Name | Mohamed Hassan A Mohamed |
| Date of Birth | August 3rd, 1991 |
| Place of Birth | Egypt |
| Current Club | Al Rayyan (QAT) |
| Height | 195cm/6'5″ |
| Position | Shooting Guard |
| Ranking Points | 6,159 |
| World Ranking | 5,732nd |
| Category | Open Men 4,411th |
The international and award-winning basketballer, Mohamed Hassan A Mohamed is famously referred to as Mizo Amin. He is presently the captain of his club Al-Rayyan Sports Club and the Qatar National Team in basketball league.
Mizo is one of the top seven three-point shooters in the whole of Asia. A versatile basketballer who is able to play in and out of the Point Guard and Shooting Guard positions. He is rated by FIBA as the Qatar basketball trending leader.
With the participation of Mizo Amin in his Qatar team, he has successfully assisted to finish at 3rd position at the FIBA Asian Tokyo 2012. He scored a buzzer beater against Japan in that competition and is still active to lead his team in coming FIBA Basketball Competitions.
Mizo's Journey into Basketball Career
Mizo Amin began playing basketball as early at five and he was so passionate about the game. His father, coach Hassan Abdelmoaty discovered his talent and set him on the right path. He got into Qatar Basketball League at a tender age and was the first youngest player to be enlisted into the Qatari League. He is a lead scorer in most of the matches he participates in. He has been rated 3 times an MVP, twice as 3-point shooter, and has won Gold Medal Championships for 22 times.
Milestones
In the Gulf region,

Mizo Amin

was rated the KO3 (King of 3s)

 

3-point shooter on the 37th GCC Club Championship scoring list
He was selected as Asia's magnificent 7 3-point shooter in 2017, at the FIBA Asia Cup 2017
Amin

led his team to victory

at the Emir Cup Finals, in 2019. He was also rated the most relevant player in the league across the media
One of the most famous athletes in Asia, Mizo Amin has been sponsored by Qatar Olympic Community and he also owned a merchandise store name Punchy Store. He was awarded the best 3 point shooter in the Gulf Region GCC in 2017
Early Life and Entry into Basketball

Mizo Amin was born on 3 August 1991 in Egypt, Cairo, the second of four children of Hassan Abdelmoaty Mohamed Amin, a professional basketball player and coach, and his wife Lubna Abdulaziz Elesawy Ali. He had two sisters, Lubna Hassan and Ghufan Hassan, and a brother, Abdulrahman Hassan. Growing up in a tight-knit, basketball-loving family Mizo developed a passion for basketball from an early age, playing constantly with his father, Hassan Abdelmoaty Mohamed Amin. Mizo Amin fell in love with basketball at a very young age. At the age of 4, his father took him to his basketball club, Al Rayyan SC, where he was coached and influenced to become a professional basketball player. It's like he almost grew up in a basketball court playing and watching basketball every day. Mizo Amin then continuously worked to develop his skills while attending education. Amin went to Doha Independent School for his high school education and then to Qatar University for his Bachelor's Degree in Marketing Management. Due to his hard work and passion for basketball, he was drafted into the Qatari League at the age of 17. He was the youngest ever to be drafted in the Qatari League. Then his journey begins, he became the Qatar National Basketball Team Captian and so on.
Mohamed Hassan A Mohamed Stats For Seasons Played
Statistics
Let us breakdown the stastistics of Mizo Amin
2015 FIBA ASIA CHAMPIONSHIP
2016 FIBA Asia Championship Cup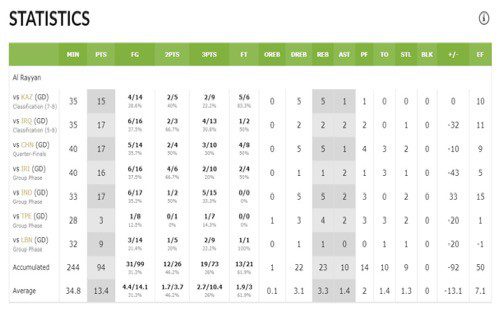 2017 FIBA ASIA CHAMPIONSHIP
2018 (Out for a broken noise surgery )
2019 FIBA ASIAN WORLDCUP QUALIFIERS